How to Stop Emotional Eating
Food is fuel for the human body, and we eat it to get ourselves through the day. We also gather around the dinner table to celebrate special events and spend time with our loved ones. In times of grief, it's common to offer food to the bereaved. Is it any wonder that food and emotions are so connected?
Unfortunately, some people feel compelled to eat far past the point of satiety. This is done in an attempt to calm volatile emotions or to fill an emotional void.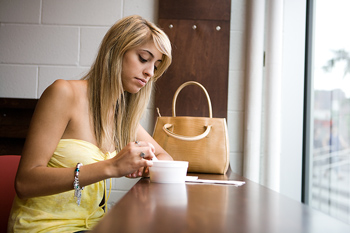 The National Institute of Health estimates that 3% of Americans (over 9 million people) suffer from compulsive overeating, also known as Binge Eating Disorder. This disease can lead to obesity, type 2 diabetes, and feelings of intense guilt and shame.
Emotional eaters tend to be guided by their emotions rather than their hunger. Some eat when they are sad, lonely, or bored. Others eat when they are stressed out.
Most are simply carrying on behaviors learned in childhood, when food was associated with comfort and reward. Emotional eating has little to do with actual hunger, and everything to do with  unfulfilled needs.
If you think you or someone you love might be struggling with compulsive emotional eating, follow these steps to start the recovery process.
Recognize the signs of emotional eating.
Emotional eaters tend to eat until they are uncomfortably full, and they usually eat alone because they are self-conscious about the amount of food they are consuming. After an emotional eating binge, they might feel disgusted, guilty, or depressed about their lack of self-control.
Learn to identify your triggers.
Every emotional eating episode has a trigger.  Think back to a time when you engaged in compulsive eating. Was it a reaction to a particularly stressful day? Were you consoling yourself with food to overcome loneliness or boredom?  Were you relieved that a stressful period in your life had finally come to an end?  All of these situations can lead to an emotional eating binge.
Discover your true needs.
It's not always an easy process, but if you want to overcome emotional eating, you must learn to recognize and ask for what you truly need. Do you need food, or do you need affection?  Do you need food, or do you need to feel appreciated? When your true needs are fulfilled, the compulsion to eat will go away.
Keep a food journal.
A food journal is an excellent way to keep track of your food intake. You can also use it to track your feelings and emotional eating triggers. This will help you identify the thought processes leading up to a binge. Once you can identify these thoughts, you can take steps to change them and head off the next binge before it occurs.
Replace food with other rewards.
Learn to reward yourself with treats other than food. If you need to feel pampered after meeting a stressful deadline, celebrate with a massage or a luxurious bubble bath. If you want to celebrate after losing ten pounds, buy yourself a new outfit or something related to a favorite hobby.
Too many of us turn automatically to food as a reward, forgetting that there are many healthier ways to splurge!
Talk to someone who understands.
Millions of people struggle with emotional eating, and you do not need to go through recovery alone. Sometimes it helps to hear from others who have beaten the disorder, and others who face the same challenges as you.
Comments?
---